DISCOVER SANTORINI, AN ISLAND-VOLCANO EMBRACED BY THE AEGEAN SEA
Santorini is one of the most popular islands of Greece all due the natural landscapes (black beaches, crystal clear waters, etc), the traditional settlements, the peculiar volcanic nature and the unique entertainment that this island offers.
You can visit Santorini by boat or by airplane from all major cities of Greece (Athens, Piraeus, Heraklion and Thessaloniki). Santorini is also connected by boat or airplane with various surrounding islands.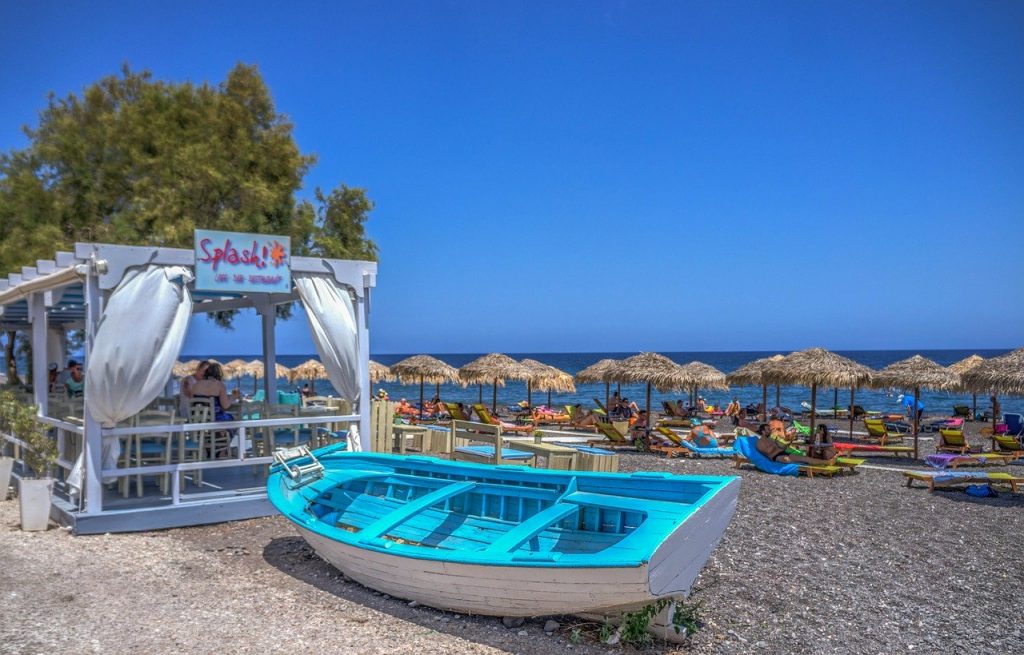 Kamari is a picturesque coastal village of unparalleled beauty, situated on the southeastern side of Santorini. The hamlet boasts a marvelous beach bearing the same name, which is among the top beaches on the island. The wide strand of black sand, the crystalline cerulean waters, the picturesque surroundings, the modern facilities, including water sport and diving centers, and of course, its ideal location—close to the vibrant capital Fira, but far enough to be serene, make Kamari beach irresistible. Walking along the beach towards the south, you will reach the impressive Mesa Vouno hill, with the archaeological site of Ancient Thera crowning its top, 400 meters above sea level.

The coast of Kamari is lined with taverns, restaurants, cafés, bars, and shops. Enjoy your leisurely walks on the promenade, shop at the souvenir stores to get memoirs for your loved one back home, relish local delicacies and sip a refreshing cocktail at one of the bars, gazing at the mesmerizing colors of the sunset.
https://www.kastelliresort.com/
The volcano is undeniably Santorini's trademark, linked with violent natural events that consumed the once circular island to create the dramatic, lunar-like, meta-volcanic landscape we all admire today. As you approach the island, either from the sea or air, you will be overwhelmed by its extraordinary scenery.
That being said, a volcano tour is a must, and you will find several boat trips that will take you to the volcanic islets to stroll along the rims of the main crater and reap the health benefits of swimming in the hot springs. The tour usually starts in the morning and takes you to the isles of Nea Kammeni, Palaia Kammeni, and Thirassia. Visiting these small but wondrous islands, and watching the caldera formations form their privileged point of view, you will be swept away by the raw power of nature and its stunning creations.
https://www.kastelliresort.com/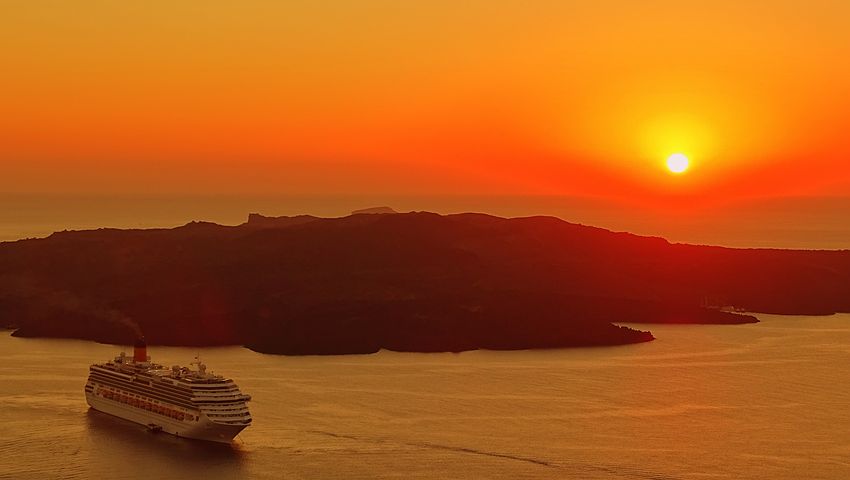 Santorini Airport is 6 km away, and Athinios Port 12 km away. The lively town of Fira is at 9 km. Ancient Thira is 2 km away and Akrotiri is at 10 km. The traditional village of Oia is within 24 km.
You can reach Kamari by taxi or by bus. See Santorini Transport for more information.